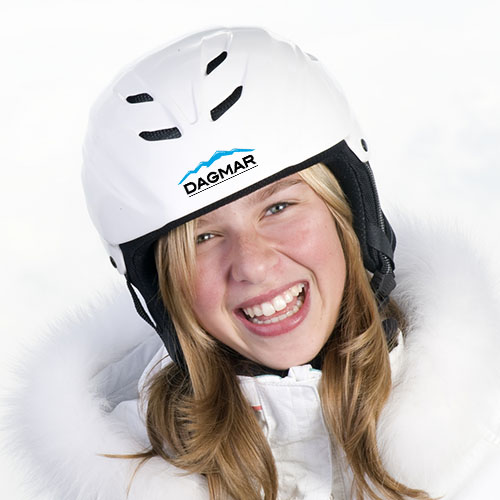 Equipment Rental – Helmet
$13.27 + HST
Separate Item Equipment Rental – Helmet Rental – 1 Day
Price: $13.27 plus HST
Helmet Rental Deposit of $50 is Required.
Important Please Read:
Terms and Refund Policy
Description
RELEASE OF LIABILITY, WAIVER OF CLAIMS, ASSUMPTION OF RISKS AND INDEMNITY AGREEMENT BY SIGNING THIS DOCUMENT YOU WILL WAIVE CERTAIN LEGAL RIGHTS, INCLUDING THE RIGHT TO SUE. PLEASE READ CAREFULLY. TO: DAGMAR RESORT LIMITED. RENTAL AGREEMENT (1) I accept full responsibility for the care of the rental equipment ("the Equipment") listed on this form and I agree to pay for any damage to the Equipment and replace at full retail value any Equipment not returned by the agreed date. (2) I also agree to return the Equipment in clean condition to avoid any additional charges. (3) [SKIERS ONLY] I have made no misrepresentation in regards to my height, weight, age or skier type. (This information is required in order to properly adjust the ski/boot binding settings). (4) I am familiar with the proper use of the Equipment. I understand that the rental technicians are able to answer any questions I may have as to the proper use of the Equipment. ASSUMPTION OF RISKS I am aware that alpine skiing, snowboarding and x-country skiing involve risks, dangers and hazards and that injuries are common and ordinary occurrence of the sports. ALPINE SKIING I understand that the ski boot/binding system will not release at all times or under all circumstances, that it is not possible to predict every situation in which the system will release, and that the system is no guarantee that the user will not be injured. SNOWBOARDING/ X-COUNTRY I understand that the snowboard boot/binding system or x-country boot/binding system is not designed or intended to release and will not release under normal circumstances. I understand that as the snowboarding boot/binding system or x-country boot/binding system is a non-release system, it will not reduce the risk of injury during a fall and will increase the risk of not surviving an avalanche. I FREELY ACCEPT AND FULLY ASSUME ALL RISKS, DANGERS AND HAZARDS ASSOCIATED WITH THE USE OF THE EQUIPMENT. RELEASE OF LIABILITY, WAIVER OF CLAIMS AND INDEMNITY AGREEMENT In consideration of the rental of the Equipment, I hereby agree as follows: 1. TO WAIVE ANY AND ALL CLAIMS that I have or may have in the future have against the Dagmar Resort Limited and the manufacturer and distributor of the Equipment and its directors, officers, employees, agents, and representatives (all of whom are hereinafter collectively referred to as "the Releasees"), and TO RELEASE THE RELEASEES from any and all liability for any loss, damage, injury or expense that I may suffer, or that my next of kin may suffer as a result of or arising out of any aspect of my use of the Equipment, DUE TO ANY CAUSE WHATSOEVER, INCLUDING NEGLIGENCE, BREACH OF CONTRACT, OR BREACH OF WARRANTY ON THE PART OF THE RELEASEES in respect of the design, manufacture selection, installation, maintenance or adjustment of the Equipment, or in respect of the provision of or the failure to provide any warnings, directions, instructions or guidance as to the use of the Equipment. 2. TO HOLD HARMLESS AND INDEMNIFY THE RELEASEES from any and all liability for any loss, damage, injury or expense to any third party, resulting from the use of the Equipment; 3. This Agreement shall be effective and binding upon my heirs, next of kin, executers, administrators, assigns and representatives, in the event of my death or incapacity; 4. This Agreement shall be governed by and interpreted in accordance with the laws of the Province of Ontario; and 5. Any litigation involving the parties to this Agreement shall be brought solely within the Province of Ontario. I HAVE READ AND UNDERSTAND THIS AGREEMENT AND I AM AWARE THAT BY PURCHASING THIS PRODUCT I AM WAIVING CERTAIN LEGAL RIGHTS WHICH I OR MY HEIRS, NEXT OF KIN, EXECUTORS, ADMINISTRATORS, ASSIGNS MAY HAVE AGAINST THE RELEASEES.
PLEASE READ THE FOLLOWING CAREFULLY
Refund Policy Including Covid-19 & Terms and Conditions
COVID-19 Refund Policy
Should Government and/or Health Authorities require Dagmar Resort Ltd. to close
• prior to or after opening the your products may be deferred to 2021/2022 season or the following refund/credit policies will apply:
Prior to Opening Day:
• 100% refund for payments received by E-transfer or Cheque
• 90% refund for Credit Card purchases or 100% Refund on Dagmar Gift Card
After Opening Day and for the Remainder of the Season:
Season Passes
Credit notes will be applied towards the next season 21/22 in the following amounts
December 15th to January 01st, 2021 - 70%
January 2nd - February 01st 2021 - 40%
February 2nd - March 01st 2021 - 20%
March 2nd - March 15th 2021 – 10%
Programs and Camps:
Will be pro-rated by the number of cancelled days and credit notes will be applied to next season
*Dagmar's regular refund policy applies to other refund requests.
Please be advised that at any given time during the Covid-19 Pandemic
Days and hours of operation may vary; always check ahead before visiting.
Limit the daily number of skiing/boarding guests indoors and outdoors.
The number of daily non skiing guests will be restricted.
Require all guests, including pass-holders, to "sign-in" for contact tracing purpose.
Dagmar Refund Policy
Refunds are not guaranteed and are at the sole discretion of Dagmar Management. If a refund is approved a $53.10 +HST administration fee will be applied to each item refunded. No Refunds after December 1st.
Season Pass & Programs:
You will receive a refund, less $53.10 +HST Administration fee for each pass or program if you request a refund before December 01; You may request in writing to transfer the pass or program to next the season. After December 01, there will be NO REFUNDS. Once a purchase is made it is your responsibility to pick-up at your convenience when Dagmar is open. All products expire at season's end.
During Ski Season:
To receive a prorated Credit Note for the next season Pass or Program due to accident or illness, it is solely at the discretion of Dagmar Management and a doctor's note may be required. The Seasons Pass must be returned.
Discover Programs, Lift Ticket, Area Lift Ticket and Rental Equipment:
No refunds will be issued, but may be used the following season with authorization from Dagmar If there is an increase in price the difference may be paid.
Coupon Books, 8 Packs of Lift Tickets and Packs of Lessons.
No Refunds will be issued. Products expire at season's end.
Lost Product will NOT be replaced. You are responsible for your product after purchase.
Lift Tickets that fall off or are lost:
Lost ticket will NOT be replaced. You are responsible for your ticket after purchase.
PLEASE READ THE FOLLOWING CAREFULLY
CONDITIONS OF SEASON PASS, PROGRAMS & ALL PRODUCTS OR SERVICES PURCHASED
Dagmar Resort Limited reserves the right to revoke or remove the season pass privileges or any person not complying with ski area rules. This includes bad behaviour and foul language. The season pass or ticket may be removed by any of our Management or the Ski Patrol.
Season Pass & Tickets must be worn on the arm or jacket while skiing and visible to Dagmar Staff. Loops are provided; Arm-Bands are available for sale. Keeping your Pass safe is your responsibility.
Season Passes are NOT TRANSFERABLE. Attempted transfer will result in the immediate removal and termination of the pass.
Lost or Stolen Season Passes must be reported immediately to the office. A charge of $75.00 will apply for a first time replacement, a second replacement is 50% of pass cost.
If a Season Pass is forgotten, a lift ticket must be purchased. Regular rates will be charged for occurrences.
Season Passes are not refundable. Passes or tickets are not prorated.
Season Passes or any other products not picked up, will NOT be refunded or credited. Once a purchase is made it is your responsibility to pick-up at your convenience when Dagmar is open. All products expire at season's end.
Cash, E-transfer, Cheques, Visa or MasterCard are accepted. NO CHEQUES after December 1st.
Each purchased product is subject to a non-refundable administration fee of $53.10 +HST at the sole discretion of Dagmar Resort.
All purchases made in error or duplicated are subject to administration fees.
Parent or guardian's signature is required for persons under 18 years of age.
Proof of age or student card may be requested when purchasing a Season Pass.
Dagmar Reserves the Right to deny any persons entry to its facility at its sole discretion.
Bullying of any kind in person or on social media is not acceptable and will not be tolerated.
DAGMAR RESORT LTD RESERVES THE RIGHT TO MAKE ANY CHANGES, INCLUDING CHANGES TO PRICES, DATES, And SCHEDULES & LIFT OPERATING TIMES. DAGMAR IS NOT RESPONSIBLE FOR LOST OR STOLEN OR DAMAGED EQUIPMENT, PERSONAL BELONGINGS or LOST PURCHASED PRODUCTS. BULLYING OF STAFF BY CUSTOMERS IN PERSON OR ON SOCIAL MEDIA IS NOT ACCEPTABLE AND WILL NOT BE TOLERATED. DAGMAR RESERVES THE RIGHT TO DENY ANY PERSONS ENTRY TO its FACILITY AT its SOLE DISCRETION.
BEWARE OF SKIER'S RESPONSIBILITY CODE. I hereby absolve Dagmar Resort Limited, its employees and instructors from all claims from damages or injuries sustained by myself or all listed dependents.
Description
Separate Item Equipment Rental – Helmet Rental – 1 Day
Price: $13.27 plus HST
Helmet Rental Deposit of $50 is Required.