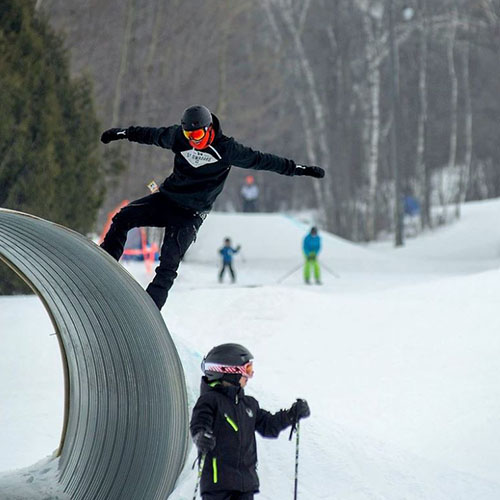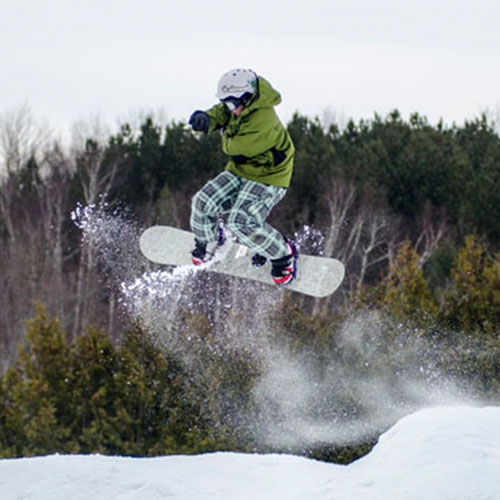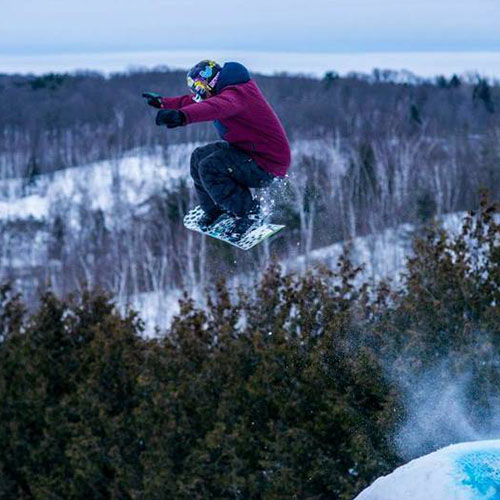 #1 for Family Fun !
Discover the Thrill of Winter!
Voted one of the top Toronto winter destinations, Ski Dagmar is the 'Go To' Family Resort that everyone is talking about. Our Family Learning Center has it all … Learn to Ski Lessons, Magic Carpet & Specialized Children's Instructors. Whether a Grandparent or a 3-year-old, Dagmar's scenic slopes provide a fun and exciting learning experience for all. Riders, don't miss Dagmar's renowned Terrain Parks, the largest in the Durham Region.
Important: Reservations Must be Made by Passholders & Customers wanting Ticket & Rentals. Book Lessons directly with the ski school.  The restaurant is open, indoor and outdoor seating is available with food purchases. Please, No Outside Food is Permitted. The Coffee Bar is fully licensed & Open. Visit the Gift shop for goggles, helmets gloves, and souvenirs.  Please use your vehicle as base lodge to change & store your belongings. Please note that there is No Access to the Slopes without a Ticket or Pass.
4 Chairlifts including 2 Quads and 2 Triples – Carrying you to the top FAST!
2 Magic Carpets – like a moving sidewalk, easy and fun!
18 Runs – With varied terrain for all skill sets.
Durham Regions Largest Terrain Park – Over 60 features in 4 Progression Parks for all abilities from beginner to advanced levels.
MY Snow School – With a team of experts led by Meredith Youmans CSIA Level IV. Superior lessons and fun programs, unsurpassed in student/ instructor ratios.
Charming Chalet – Beautiful views overlooking the slopes
Restaurant and Fully Licensed Lounge – Including a Coffee Bar.
Personalized Equipment Fitting in our Customized Rental Shop – Uniquely designed to provide you with a SKI OUT experience.
Pro and Repair Shop – For Ski and Snowboard Tuning.
Gift Shop – Great selection of helmets, goggles, gloves, souvenirs, and more. Gift Cards for all occasions are available.
Special Needs Parking is Available
Dagmar's Snow Making System – With top-of-the-line grooming equipment, ensures our Alpine Runs will have plenty of SNOW and great conditions.
Durham Region's Largest Terrain Park!
RIDE THE PARKS?  THIS IS THE ONE TO HIT!
Designed for beginners to advanced skiers and boarders, Dagmar's terrain parks are constantly evolving throughout the season to keep them fresh and challenging! They are meticulously maintained all day by our very enthusiastic park staff. Dagmar has over 40 features including Jibs, Boxes, Walls, Bonks, Picnic table, Stair set, Rainbow (rail, box and wall!), DFD rail and t-box, FDF, Battleship and so much more!!!
Dagmar also has 2 jump lines with hits from 3′ to 50′ and our grooming department, operating the best equipment available in the world, are constantly creating new snow features including; Hips, 1/4 pipes, Pyramids, Spines and whatever else our creative park staff dreams up!!!
---
PUPPY POUND
Ready to start riding Small Park Features?
Introduce yourself or your little ones this season to the Puppy Pound. Created for beginner park skiers/riders and can be found on our gentle, green slope. Try soft rollers, mini jumps and small berms in a private, approachable environment! Even parents can try!
THE IMPOUND
Are you an Adrenalin Junky? Designed for Intermediate Park skiers/ riders, the Impound is now larger to fit more impressive, challenging features and slope-style flow. With The New Dog Pound available this season, you will see less traffic in the Impound, an exciting park environment!
DOG POUND
Anxious to try the next step in Terrain Park Progression? This will be your place to "hang-out" this season!
Planned for our novice park skiers/riders, the Dog Pound introduces riders to boxes, rails, wedge jumps and hips! An awesome park for building confidence and perfecting your form!
THE COMPOUND
Looking for BIG AIR!! The Compound is the place for seasoned park riders/skiers. Carefully designed, on the slope under the Big Daddy chairlift, The Compound showcases innovative and very demanding, large features with fresh designs and new "lines" created throughout the season.
YOUR RESPONSIBILITY CODE
There are elements of risk that common sense and personal awareness can help reduce. Regardless of how you decide to use the slopes, always show courtesy to others. Please adhere to the code listed below and share with others the responsibility for a safe outdoor experience.
1. Always stay in control. You must be able to stop, or avoid other people or objects.
2. People ahead of you have the right-of-way. It is your responsibility to avoid them.
3. Do not stop where you obstruct a trail or are not visible from above.
4. Before starting downhill or merging onto a trail, look uphill and yield to others.
5. If you are involved in or witness a collision or accident, you must remain at the scene and identify yourself to the Ski Patrol.
6. Always use proper devices to help prevent runaway equipment.
7. Observe and obey all posted signs and warnings.
8. Keep off closed trails and closed areas.
9. You must not use lifts or terrain if your ability is impaired through use of alcohol or drugs.
10. You must have sufficient physical dexterity, ability and knowledge to safely load, ride and unload lifts. If in doubt, ask the lift attendant.
THIS IS A PARTIAL LIST – KNOW THE CODE – BE SAFETY CONSCIOUS – IT IS YOUR RESPONSIBILITY
DAGMAR TICKET REMOVAL POLICY:  To help maintain courteous skiing/snowboarding at the resort, certain Dagmar personnel have been given the authority to warn skiers/snowboarders and, if necessary, remove their tickets or season passes, for out of control or irresponsible skiing/snowboarding, being intoxicated or for any other act which endangers the individual skier/snowboarder or anyone else.  Trespassers will be charged.
TICKETS MUST BE PROPERLY SECURED, AS LOST TICKETS WILL NOT BE REPLACED OR REFUNDED.